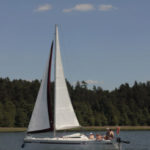 Twister 800n is a great yacht for sailors who like to race and are going to the lakes to feel some excitement. It catches the wind really quick! It gives you the possibility to be faster than most of the other sailors on the Masurian Lakes , but you have to be ready for playing "live ballast". A sailor who does not have a lot experience should be on a Twister cautious and rather have too little than too much sail. On the Masurian Lakes the yacht Twister 800 will provide you with fun, adrenaline and great adventure.
Antila 27 – The perfect yacht for families with children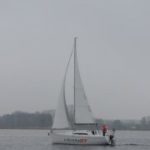 Antila 27 means space, comfort and security. Inside there is really a lot of space and even a heating. A fridge and great stability are only some of the advantages which make this yacht a perfect family cruiser. We provide you with relingnets, which means your beloved ones, the youngest sailors will be safe. It is worth mentioning that Antila 27 has great nautical features and almost 40 sq m of sail which will allow you to have a lot of fun sailing on Masurian Lakes. Just to remind you:  the heating will give you the independence from the weather.
Antila 24 – a classic on Masurian Lakes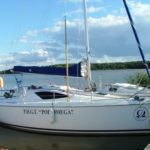 Antila 24 gives you fun from sailing for a decent price. Today is it one of the more popular yachts which you can charter on Masurian Lakes. And although there is less space than on her bigger sister Antila 27, six people crew will have it quite comfortable. The smaller size has its advantages – manouvers in marines will definitely be easier. Antila 24 is the perfect yacht for people who start sailing, but more experienced sailors will also appreciate this yachts qualities.
Looking for best prices? Check out our charter special offers!