NEW (april 2012) Antila 24.
Let us put it simple: Antila 24 is a great yacht. It's not too big and not too small – because of its stability perfect for sailors who have less experience.  The lenght od the deck – 24 feet will allow you easy manouvers in every marina on Masurian Lakes.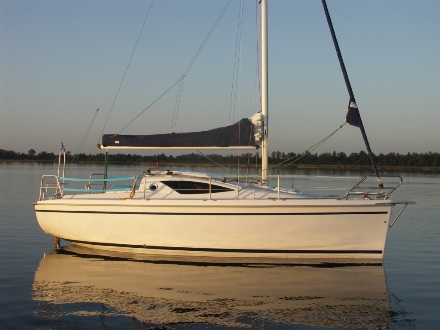 If you want to sail with four, five or even six crew members, and some of them are big guys, Antila 24 will allow you comfort sailing. But from many advantages of this yacht, we can not forget to mention that Antila 24 is great value. It gives even the students the chance to explore Masurian Lakes. The new yacht Antila 24 is awaiting you orders, captain!

Antila 24
Overall length 718cm
Overall width 278 cm
Weight 1900 kg
Cabin Height 180 cm
Draft 35-138 cm
Sails 27 m2
Mainsail 17.5 m2
Foresail 9.5 m2
Engine 6 km
Crew max. 8 (comf. 6 )
CE certificate
Each of our yachts is fully equiped with additional gear:
cooking gear for eight people (plates, forks, knives, spoons, cups, etc.)
Radio, CD, MP3
Watertank 30l
Masurian Lake District map
axe
tent
life jackets
and much more…
Do not hesitate and check out how to make a reservation!